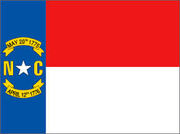 North Carolina, nicknamed the Tar Heel State and the Old North State, is an American state founded on November 21, 1789 (12th) and is the 28th largest state in the United States by total area and has a population of over 9,380,000 (10th). The capital of North Carolina is Raleigh, and the largest city is Charlotte.[1]
Geography
Edit
The state is bordered by Virginia to the north, Tennessee to the west, South Carolina to the south, Georgia to the south west and the Atlantic Ocean to the east.[2] North Carolina is separated into 3 regions based on the topography of the state. The eastern portion of North Carolina is low, flat to gently sloping land extending across the Atlantic Ocean, called the Coastal Plains. The middle portion of the state is a hilly, rolling land, and the Appalachian Mountains forms North Carolina's western border.[3]
The total area of North Carolina is 53,819 square miles, of which 18.4 million acres are forested.
North Carolina has a humid, subtropical climate, where winters are short and mild and summers are quite long. The temperature of most of North Carolina rarely exceeds 100 degrees Fahrenheit. Average January temperatures have a range of 36 to 48 degrees Fahrenheit, while average July temperatures range from 68 to 80 degrees Fahrenheit.
References
Edit